Recently someone asked in the "Strickforum" how to wrap needles to prevent holes when knitting with the garter carriage. As in this case the needles must be pushed into A position, it is not self-evident how to proceed. The photos show how I do it: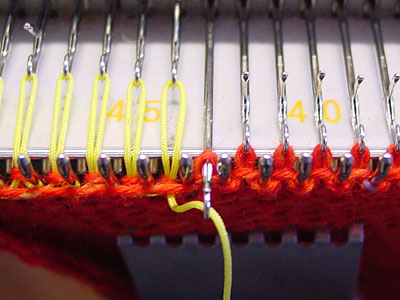 Bild 1: Nadel 43 links wird in A-Position geschoben, während der Schlitten auf der linken Seite ist.
Image 1: Needle 43 left is pushed into A position while the carriage is at the left side.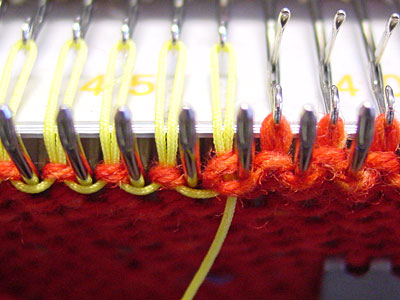 Bild 2: Eine Reihe wurde darüber gestrickt. Der Faden verläuft vor der Masche auf der soeben in A-Position geschobenen Nadel.
Image 2: One row is knit. The thread runs in front of the stitch on the needle that has been pushed into A position.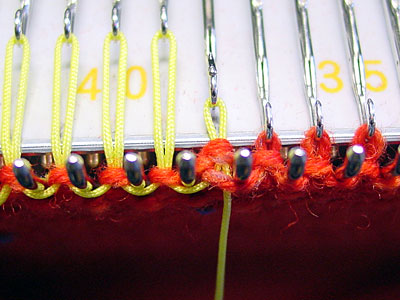 Bild 3: Wenn die Nadel wieder mitstricken soll, wird der Nylonfaden behutsam strammgezogen, und die Masche gleitet wieder in den Nadelhaken. Dabei wird der davor verlaufende Faden mit aufgenommen.
Image 3: When the needle is put into work again, the nylon thread is gingerly pulled taut, and the stitch slides back into the needle hook. The thread running in front of the stitch is picked up together with the stitch.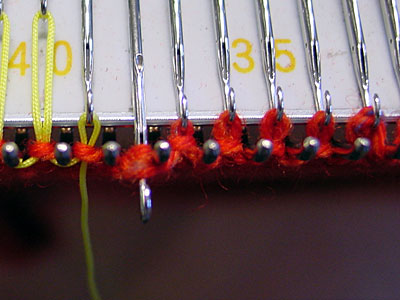 Bild 4: Maschen mit ihrem "Umschlag" (Nadeln 33 und 38 links), bereit zum Abstricken, in diesem Fall mit Kontrastgarn.
Image 4: Stitches and their "wrap" (on needles 33 and 38 at left), ready to knit, in this case with waste yarn.