Auf den ersten Blick wirkt dieses recht alte Werk langweilig und wenig inspirierend mit seinen schlichten, altmodischen Schwarzweiß-Zeichnungen und den vielen Tabellen. Auf den zweiten Blick erst zeigen sich die wahren Werte. Mary Weaver, die britische Ikone des Maschinestrickens, war eine der ersten und wahrscheinlich die wichtigste Autorin auf diesem Gebiet. Ihre Publikationen bilden die technische Grundlage für viele Bücher anderer Autoren übers Maschinestricken. Sie hat auf so ziemlich jedem Maschinenfabrikat gestrickt, das seinerzeit erhältlich war, und ihr profundes Wissen ist heute noch genauso aktuell wie damals.
In diesem Buch geht es um das Stricken mit der Doppelbettergänzung. Zwar ist das Buch in erster Linie für Knitmaster/Empisal 321 mit Doppelbett SRN gedacht, jedoch kann man fast alles auch auf Brother Strickmaschinen umsetzen, wenn man weiß, welche Einstellungen gemeint sind. Aus dem Inhaltsverzeichnis:
Garne fürs Maschinestricken
Maschenweite und Maschenproben
Sinnvoller Einsatz von Gewichten
Irreguläre Mustereinstellungen
Arbeiten mit Kontrast- und Abfallgarn
Rundstricken
Patentgestrick
Versatzmuster
Anschlag und verschiedene Bündchenmuster
Halsblenden, Knopf- und Knopflochleisten
Abketten am Doppelbett
Fang- und Vorlegemuster
Fehlerbehebung
Doppelbettstricken mit Lochkarten
Ausarbeitung
Doppelbett-Jacquard
Standard-Größentabellen (von 1974) für Männer, Frauen und Kinder in Zoll und Zentimetern
Den Abschluss bilden 20 Anleitungen für verschiedene Kleidungsstücke, alle sind in mehreren Größen beschrieben. Weavers Anleitungen sind eine Mischung aus Text und Diagrammen, an die man sich erst einmal gewöhnen muss, aber wenn man ihre Vorgehensweise begriffen hat, ist es sehr einfach, danach zu stricken. Die verwendeten Lochkarten sind am Ende des Buches in Originalgröße abgebildet.
Wenn Ihr zufällig dieses Buch und seinen Nachfolger "Part 2" irgendwo findet, greift zu. Soviel geballtes Wissen über das Stricken am Doppelbett bekommt man sonst kaum.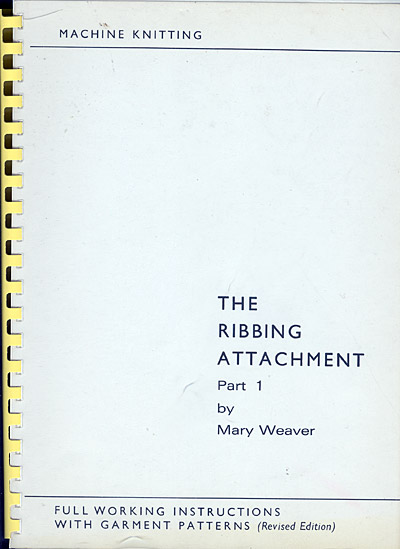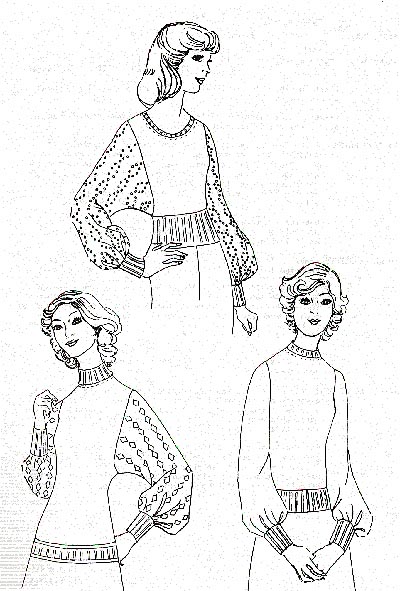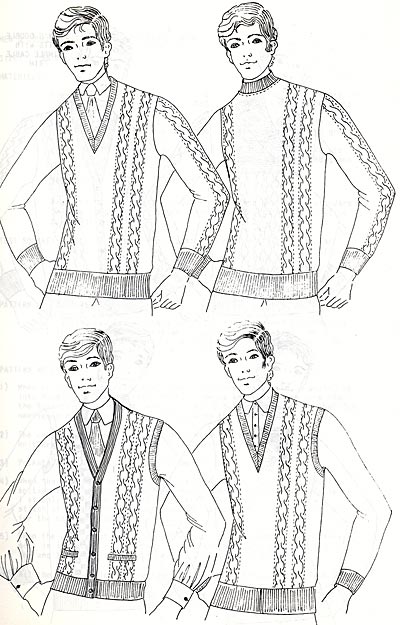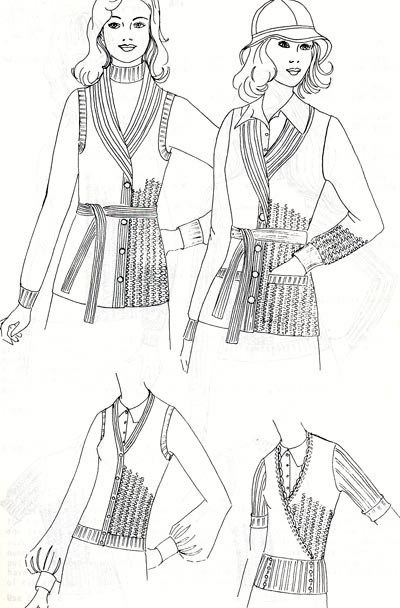 Spiral bound, published 1974 by Weaver Publications, Sidcup, ohne ISBN. 206 pages, many drawings and schematics.
At first sight, this rather ancient book seems boring and not very inspiring with its plain, old-fashioned black+white drawings and charts. But at closer inspection you will notice its true value. Mary Weaver, the Grande Dame of British machine knitting, was probably the first and most important author in this area. Her publications provided the technical basis for many books about machine knitting written by other authors. She has used almost any make of machine that was available at the time, and her profound knowledge is as uptodate as it was then.
This book covers knitting with the ribber. Although it is primarily meant for Knitmaster/Empisal 321 with SRN ribber, it can be used with other Japanese knitting machines as well if you know how to convert the setting to your own make or model. From the table of contents:
Yarns for machine knitting
Tensions and swatches
Using weights
Irregular pattern settings
Working with waste yarn
Tubular/circular knitting
Fisherman's rib
Racking
Casting on and welts
Neckbands, borders, buttonholes
Casting off
Tuck and slip stitch
What did I do wrong?
Double bed knitting with punchcards
Making up
Double bed fair isle
Men's, women's and children's standard sizing charts (as of 1974) in inches and centimetres
The book containes 20 instructions for different garments in several sizes. Weavers instructions are a mix of text and diagrams, and it may take some time to get used to them. But having understood her approach, it is very easy to follow her instructions. The punchcards used are shown in original size at the end of the book.
If you stumble across this book or its successor "Part 2", snap at the chance. You will hardly ever find such a wealth of knowledge about double bed knitting elsewhere.