Der Verbindungsstreifen besteht aus Mohair (ein Rest Lana Grossa "Mohair Lungo" in Kiwigrün, den ich vor fünf Jahren von einer Freundin bekam) und ist von Hand im Webmuster gestrickt. Die langweiligen Hauptteile entstehen übrigens auf dem Mittelstricker KX 350, und Blenden und Bündchen werden später aus "Mohair Lungo" von Hand angestrickt.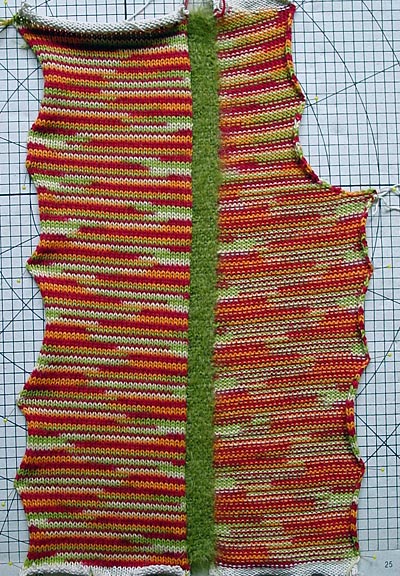 So far I'm not sure whether it will look good in the end, but I'm slowly making progress with Artesano "Hummingbird" DK. The image shows two thirds of the back, and it is intentional that the center back shows the knit side while the side part shows the purl side.
The connecting strip is hand knit in mohair (an oddment of Lana Grossa "Mohair Lungo" in kiwi green, which I got from a friend five years ago) in linen stitch. By the way, the boring main parts are done on my KX 350 mid gauge knitting machine, and bands and welts will be added later by hand knitting with "Mohair Lungo".