Um für alle Eventualitäten gerüstet zu sein, habe ich eine neue Maschenprobe gestrickt.
Dies ist
Artesano
"Hummingbird", 100 % Alpaka mit einer Lauflänge von 300 m auf 150 g, was 100 m auf 50 g und damit einem klassischen Double-Knit Garn entspricht. Mit dem Mittelstricker KX 350 und Maschenweite 3 komme ich auf ziemlich genau 22 Maschen und 30 Reihen.
Das Garn ist sehr weich und fühlt sich angenehm an, aber meine bisherigen Handstrickversuche damit haben ergeben, dass es beinahe schon beim Anfassen filzt und nicht besonders strapazierfähig ist. Weil die Farbkombination mit den kurzen Farbabschnitten recht unruhig ist, bin ich mir noch nicht ganz sicher, wie ich dieses Material am besten verarbeite.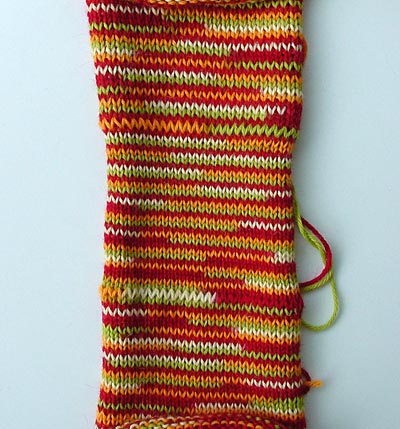 We've had an extremely cold month of March and an exceptionally warm April, now I'm curious how May will do.
To be prepared for all and everything, I've done a new tension swatch.
This is
Artesano
"Hummingbird", 100% alpaca with a metrage of 300 m per 150g, which is 100m per 50g and a classic double knit yarn. With my KX 350 knitter and tension 3, I get quite exactly 22 stitches by 30 rows per 10cms.
The yarn is very soft and nice to touch, but my attempts to hand knit it so far have shown that it already felts from touching and it is probably not very hard-wearing. As the colour combination with its short streaks of red, orange and lime green is rather bold, I'm not sure how to use this yarn to advantage.