Aus den zwei Kilo Garn wurden im Laufe der Zeit drei verschiedenartige langärmelige Pullover. Ich liebe sie alle. Und immer noch hatte ich gut 300 g übrig. Diese letzten Reste werden jetzt zu "Gesta" aus Cornelia Tuttle Hamiltons
"Hand Knitting Collection 2"
. Das ist derzeit mein Unterwegs-Strickzeug. Täglich schaffe ich ungefähr 10-12 Reihen (die Hardcore-Dauer-Strickerinnen dürfen jetzt gern lachen). Das Rückenteil ist bereits fertig (siehe Bild), beim Vorderteil habe ich etwa die Hälfte erreicht.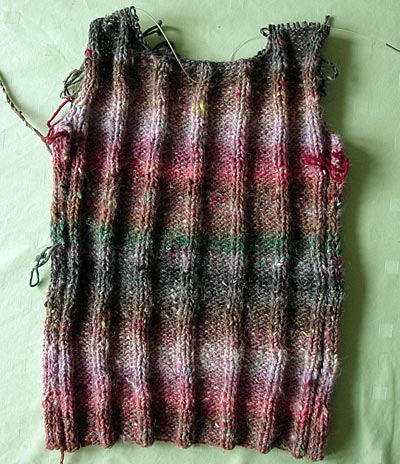 More than five years ago I bought 2 kgs of Noro Kochoran in colour 26 (turquoise-pink-grey). These are not necessarily my best colours, but in this great composition they work quite well for me. Besides, angora suits me in almost every colour. This stuff is really me.
In the course of time, the yarn turned into three different long-sleeved sweaters. I love each of them. And I still had three hanks left. They are now knitted into Cornelia Tuttle Hamilton's "Gesta" from her
"Hand Knitting Collection 2"
. This is my current en-route knitting. I get about 10-12 rows done each day (you indefatigable hardcore knitters may laugh now). The back is finished (see photo), about half of the front is done.